Aquamat Pump Applications

The AQUAMAT allows cattle and other livestock to be completely fenced away from streams, ponds and springs for TOTAL EXCLUSION from the water source. The AQUAMAT is ideally suited for projects involving livestock fencing for restoration and revegetation of riparian areas. Livestock are provided cleaner water,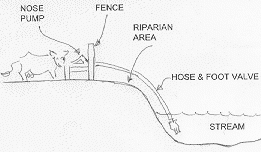 and in many cases, fencing livestock away from streams allows for improved livestock management

The AQUAMAT is also ideal in situations in which it is desirable to fence cattle out of a water source such as a pond or spring.

One pump is recommended for every 20 head of cattle.

In a pasture rotation system, pump platforms can be constructed in each pasture , and the pumps can then be rotated with the livestock. For ease of moving the pumps, we suggest using the optional "quick disconnect" fittings and installing extra hose assemblies to be left at each platform. The farmer can then quickly disconnect a pump, move it to the platform in the next pasture, and "quick connect" to the hose assembly at the new platform location.

The AQUAMAT supplies clean water to livestock ON DEMAND. That is, the AQUAMAT will only pump as much water as the animal would ordinarily drink if it were allowed to go into the stream and drink. The State of Washington Department of Ecology has issued an automatic, blanket water right for the use of "on demand" nose pumps for livestock for the purpose of excluding livestock from streams.

AQUAMAT Nose Pumps are also used by farmers in Europe to provide livestock water in areas of high water table. A nose pump is mounted over a shallow drilled or driven well, and livestock can pump their own water.

RIPARIAN RESTORATION

PUMP OPERATION

PUMP APPLICATIONS
COST EFFECTIVE

FEATURES & PERFORMANCE

PUMP LOCATION

BLUE SKIES WEST

110 MICHIGAN HILL RD.
CENTRALIA, WA 98531-9405
1.888.NOSEPUMP

FAX: 360.736.6812
E-MAIL:BSW@REACHONE.COM